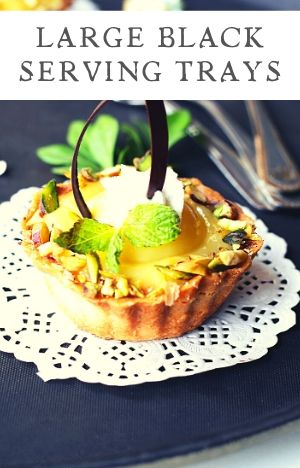 These large black serving trays are generously sized so you can use them for display purposes on an ottoman or table or for service during a large meal.

The front living room of my home is one of those that's mostly for when we have company over and I like it to look ready for action. The rest of the house can look like we have a bunch of boys living in it (because we do) but that one room is nicely reserved.

It's actually joint space with the dining room and I've wanted one just like these that I could put in that room to hold some decorative pieces like wicker balls, a centerpiece, and maybe some candle sticks.

If we're hosting a family event then I can use it to move dishes and stuff back and forth to the kitchen. Otherwise it can sit and look pretty.

I chose a few different styles you'll see below. Some have handles to make carrying easier while others have more detailed trim to help dress up the room.

Large Black Leather Serving Tray


Black Wood Serving Tray with Handles


Extra Large Black Acrylic Tray


Oversized Black Tray with Shallow Sides


20 Inch Square Serving Tray in Black


Large Dark Wood Tray with Handles