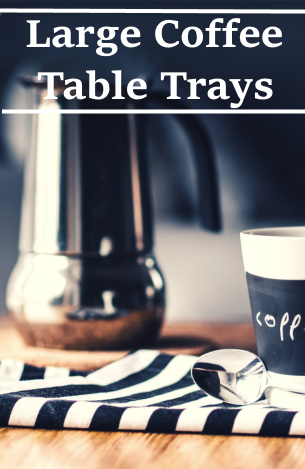 These large coffee table trays are a good size meaning that you can use them either for display purposes on a coffee table, an ottoman or for service during a meal.

I tend to use my home's living room for when we have visitors and I like it to look really nice for the occasion.

When we end up hosting a family event, I can use the tray to move dishes and plates etc to and from the kitchen. Otherwise it can sit and look pretty.

This room is actually an extension of the dining room and I've always wanted one just like these to put in that room to hold various decorative pieces.

Here I have chosen several different styles which you can see below. Some of these have handles which makes carrying a whole lot esier while others are more decorative and help to dress up a room.

Large Black Acrylic Coffee Table Tray


Large Square Shabby Chic Coffee Table Tray


Large Rustic Coffee Table Tray


Decorative Serving Coffee Table Tray


Large Rustic Wood Coffee Table Tray


Large Ottoman Coffee Table Tray


Large Decorative Wood Coffee Table Tray


Large White Wooden Coffee Table Tray