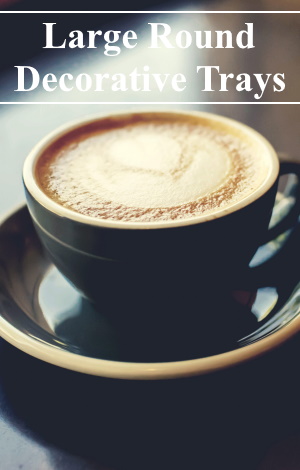 These large round decorative trays can be used either for display purposes on a coffee table or for serving purposes at say a large party.

There are many different styles to choose from including modern, more traditional and ones made out of natural materials.

Any of these trays can be used to finish off your kitchen or living room. They are attractive looking and can be used to showcase your your decorative pieces.

All of these trays have a large side lip to stop objects from sliding off and several come with handles or handle holes.

Large Round Decorative Metal Serving Tray with Handles


Large Marbled Plastic Tray with Handles


Round Bamboo Decorative Tray with Handles


Large Round Decorative Tray Distressed


Set of 2 Decorative Round Metallic Trays


Large Round Decorative Wood and Glass Serving Tray


Large Round Decorative Copper Serving Tray


large Round Bleached Wood Decorative Tray