If you want a hedge trimmer that allows you to trim your hedge comfortably and with relative ease, then this electric corded trimmer could be the answer.
In our Black & Decker HedgeHog Hedge Trimmer HH2455 Review, we look at its various features that make this device great to use.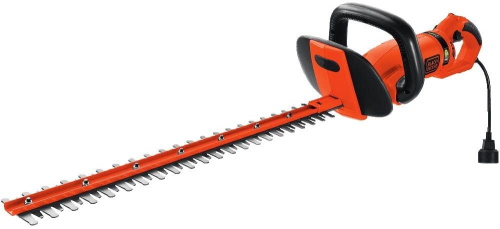 Black & Decker HedgeHog Hedge Trimmer HH2455

This electric trimmer is powered by a 3.3 Amp in-line motor. Weighing in at 6.5 pounds, it enables you to work for long periods of time without putting a strain on your back.
The Hedge Hog HH2455 has a rust-resistant dual-action steel blade that's superior to single action blade models. It's been designed to cut through overgrowth and branches of up to 3/4" diameter with up to 40% less vibration because of this design feature.
Features
The trimmer is 24″ long – This provides a good balance between ergonomics, cutting distance and power.
180 degree rotating rear handle – Enables you to work comfortably from almost any angle.
Ergonomic soft-grip handle – Great for comfort.
Innovative in-line motor – The hedge trimmer is well-balanced.
The Hedge Hog has a rust-resistant dual-action steel blade that's superior to single action blade designs.
Lock on switch for continuous running
It also has a locking switch to prevent accidental starting and a lock on switch for continuous running.
Product Performance
The 24 inch long cutting blade is a huge plus and the HEDGEHOG HH2455 gets the job done in almost half the time than models with a shorter blade would take. The longer blade also reduces the need for a lot of ladder moving and risky, unsafe overreaching.
When cutting vertical surfaces, the cutting part of the body can be rotated making for an easier job.
Dimensions
The product dimensions are: 6.19 x 7.31 x 45.13 inches
Pros
24″ hardened steel cutting blade enables you to cover a lot of ground fairly quickly.
Light weight means more comfortable to use for longer periods of time.
Ergonomic, soft-grip comfortable handle that rotates for vertical and horizontal cuts.
Locking on/off switch.
Has an innovative in-line motor which makes this device well-balanced.
Cons
You can sometimes end up pulling the cord loose a few times until you get the hang of using it.
It can struggle on branches over 3/4″ thick.
Price
Overall this quality hedge trimmer comes at an affordable price. It comes with some good features such as the rotating handle and an ergonomic shape. A well-balanced and comfortable machine to work with.
BLACK & DECKER HedgeHog 24″ Hedge Trimmer HH2455 Rating
A good comfortable to use hedge trimmer. When purchasing this device, remember to buy an extension cord at the same time.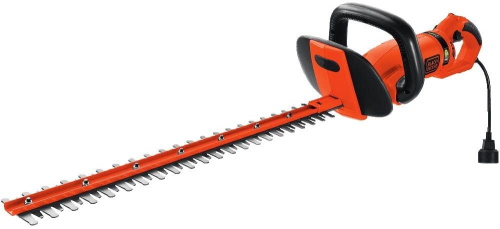 Black & Decker HedgeHog Hedge Trimmer HH2455